Welcome to Crop Management Partners. We pride ourselves with delivering top service and providing our clients with:
Independent and unbiased advice from a team of 11 established BASIS & FACTS qualified agronomists.
Technical information based on both independent & manufacturer trials and research.
Full cost analysis to ensure continued profitability of your business.
Assurance in meeting all necessary cross compliance, environmental scheme and NVZ requirements.
Guidance in the adoption of the latest precision farming techniques including variable rate seed and fertiliser applications.
Crop Management Partners2022 NRoSO – InvitationPlease book now for our winter NRoSO workshops. The workshops will be 9:00am to 12:30pm followed by a light lunch.  Monday 31st January 2022  – The Deddington Arms, Horsefair, Deddington, Oxfordshire, OX15 0SH  Tuesday 1st February 2022   – Rawston Farm, Tarrant Rawston, Blandford Forum, Dorset, DT11 8SF  Wednesday 2nd February 2022  – Marlborough […]
Writing in Farmers Weekly ~ 23rd March 2018 Ben Burrows 'Hampshire OSR looking well despite late drilling'
Don't ignore the threat from BYDV – October 2017
Cereal growers are warned not to be complacent in protecting their crops against Barley Yellow Dwarf Virus (BYDV) as temperatures remain warm heading into autumn.
As you may be aware, in light of the Covid 19 pandemic and subsequent restrictions on social gatherings, City & Guilds have made the decision to offer this year's NRoSO Annual Training Event online. This year's course worth 8 NRoSO & BASIS points is now live and available to register and complete by following the […]
Tim Sykes who farms 1300 acres near Denmead, Hampshire
I have been a client of Crop Management Partners for 20 years. I find the unbiased advice a valuable asset to my farming business. In addition to the advice I am able to purchase inputs through Agritek Ltd at competitive prices. I have also used them to help prepare successful ELS and HLS applications.
Michael Maxwell who manages a 2000 acre estate near Basingstoke
The thing that sets Crop Management apart from other agronomy companies is the holistic approach they take to my arable farming business. Not only do they give excellent independent advice on agrochemicals they also give advice in terms of cropping rotation, variety selection, crop nutrition, precision farming and methods of establishment.
Robert Shove who farms 1600 acres in North Kent
Farming nearly 1600 acres of combineable crops in North Kent, spread over 30 miles, with only 1 full time employee is a challenging task, particularly after an autumn like 2012. I have used Roger Bryan of Crop Management Partners as part of my team for over 20 years. I value the technical knowledge and experience he brings to my business as a total agronomy package independent of product sales.
Mark Bowsher-Gibbs who manages 3000 acres near Sittingbourne, Kent
Crop Management Partners provide me with a professional, well-informed, unbiased and competitive package in terms of crop pesticide and nutrition management for both arable and forage enterprises. Additional support is available for cross-compliance issues including NVZ's, soil management and environmental schemes. Profitability is the key driver when advice is given and is sensitive to both soil capabilities and any environmental constraints. In addition, the buying arm, Agritek, provide a well-run and cost effective buying group that covers all purchases. Given the continued rise in our crop yields and margins I am only too happy to endorse the working relationship I have with Crop Management Partners.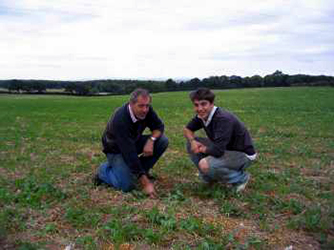 Martin Edney who farms 900 acres in West Marden, Nr Chichester.
I have been a client with Crop Management Partners for 22 years and I use them because they give me professional independent advice on a regular basis concerning seed, fertiliser and agrochemicals. Currently they are also giving me advice on Environmental schemes and NVZ's. They help me keep up to date with all the other technical issues in arable farming. All products are sourced through a very competitive, efficient buying group Agritek, which is associated with CMP. My yields and performance are in the top 10% nationally.
01730 710800

Collyers Barn,
Ridge Common Lane,
Steep, Petersfield,
GU32 1AQ
Collyers Barn, Ridge Common Ln, Petersfield GU32 1AQ, UK